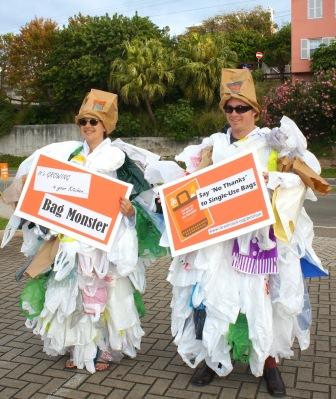 Jenn Osmond and Adam Farrell as Bag Monsters visit with Johnny Barnes this morning for Earth DaySupport is growing for our petition to curb demand for singe-use bags in Bermuda by introducing a 25c fee per bag at point-of-sale.
The petition has been set-up by Greenrock in collaboration with anti-littering charity K.B.B. (Keep Bermuda Beautiful) and the Bermuda Marine Debris Taskforce (an informal group of interested individuals and representatives from local environmental·and research organizations that study marine pollution and develop local solutions).
B.E.S.T. (Bermuda Environmental Sustainability Taskforce) were quick to add their unequivocal support commenting "Totally agree and fully support!" before ·calling on their Facebook fans to "Support the 'NO thanks' campaign" and to "Please consider supporting the 'No Thanks' campaign by signing the petition.".
Today, The Royal Gazette added their support stating "This newspaper fully supports this petition."
This morning [22 Apr], in celebration of Earth Day, our very own·bag monsters joined Johnny Barnes in greeting commuters at the Foot of the Lane roundabout and on East Broadway. Our bag monsters are the official mascots of the local campaign and petition geared at reducing the demand for singe-use bags here in Bermuda. Similar bag monsters have been used in similar campaigns internationally — one even features in the award-winning documentary Bag It , first screened locally in 2010 by Greenrock.
Greenrock began it's campaign to reduce disposable bags in Bermuda shortly after the organisation was formed. Greenrock first introduced re-usable bags to Bermuda in 2007, coupled with a public education campaign made possible by a $20,000 grant from End-to-End. Six years later, we're still working towards the same goal. Proof, if needed, that it's hard and slow to 'change the mindset'. We fervently believe legislative change is overdue, hence the petition.
If you are concerned about the environmental, societal or economic impact of disposable bags you should sign this petition below.
If you represent a company or organisation who would like to express support for the petition, email us on This email address is being protected from spambots. You need JavaScript enabled to view it..
With special thanks to volunteers Jenn Osmond and Adam Farrell for transforming into bag monsters this morning for the cause.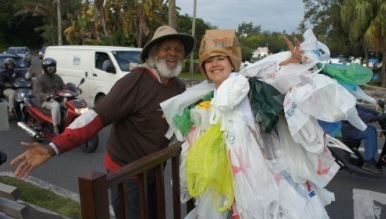 Bag Monster Jenn Osmond joined Johnny Barnes to greet commuters on Earth Day.