What is the Living Green Expo?
The Living Green Expo has been developed to provide a public platform for businesses in the green economy to showcase natural, holistic,  sustainable and environmentally friendly products and services to the broader community. The event is designed to encourage growth and collaboration within the industry while creating educational opportunities by sharing innovative ideas and demonstrating simple methods that inspire us to live naturally and think sustainably each and every day.
Why Should My Business Participate?
By participating in the Living Green Expo, you and your business will have the chance to support a worthy initiative whilst exposing your natural, holistic and sustainable products and services to a broad audience. Engaging with like-minded professionals and organizations can create great networking opportunities and provide a platform to gain media exposure through press coverage, presence on our website and increased activity on our social media platforms.
How Can I Get Involved?
We encourage all non-profits, businesses and entrepreneurs with sustainable products or services in the green economy, such as organic farming, LED lighting, energy efficient appliances, renewable energy, zero emission vehicles, natural health and beauty, sustainable living and holistic health products or services, to express their interest in the Living Green Expo by filling out the following application form.  Once approved, registration for the Living Green Expo includes four (4) options ranging from $0 - $500.  Participating vendors can choose the most suitable booth option based on the products and services they plan to have on display.
Living Green Expo Registration Fees
Option 1: Basic Vendor Booth - $150
Basic vendors will be provided with an 8' x 8' area with one wall, one 6' table and two chairs.
Option 2: Business Vendor Booth - $300
Business Vendors will be provided with a 10' x 10' area with three walls, one 8' table and two chairs.
Business Vendors who set up outside will be provided with one 10' x 10' tent, one 8' table and two chairs.
Option 3: Prime Vendor Booth - $500
Prime Vendors will be provided with one 10' x 20' area with three walls, two 8' tables and four chairs.
Prime Vendors who set up outside will be provided with one 15' x 15' tent, two 8' tables and four chairs.
Option 4: Non-Profit Vendor Booth - complimentary
Non-profit vendors will be provided with a shared space to set up booths using their own supplies.
    
What's Included in Your Registration?
Booth space including power, drapery and tablecloths at the Living Green Expo in Dockyard

Company Logo and a link for the promotion of your business details on the Greenrock website.

Four (4) Event Packages including official t-shirts, bags, and complimentary access to the 5K Walk & Run

Potential media appearances (radio, TV or print interviews) during the promotional campaign.



Please note the following:
Booth options are limited and will be granted on a first come first serve basis

Vendor application forms

must be submitted by Friday, December 29th 

Vendor registration fees are non-refundable and must be paid by Friday, December 29th

Late registration, which includes a 15% rate increase, will remain open until Monday, January 22nd

Indoor Vendor booths will be available for setup by 9 am on Friday, January 26th

Outdoor Vendor booths will be available for setup by 12 noon on Saturday, January 27th

Overnight security will be provided to secure the event venue from 7 pm Saturday - 7 am Sunday

All vendor booths must be set up by 9 am on the day of the event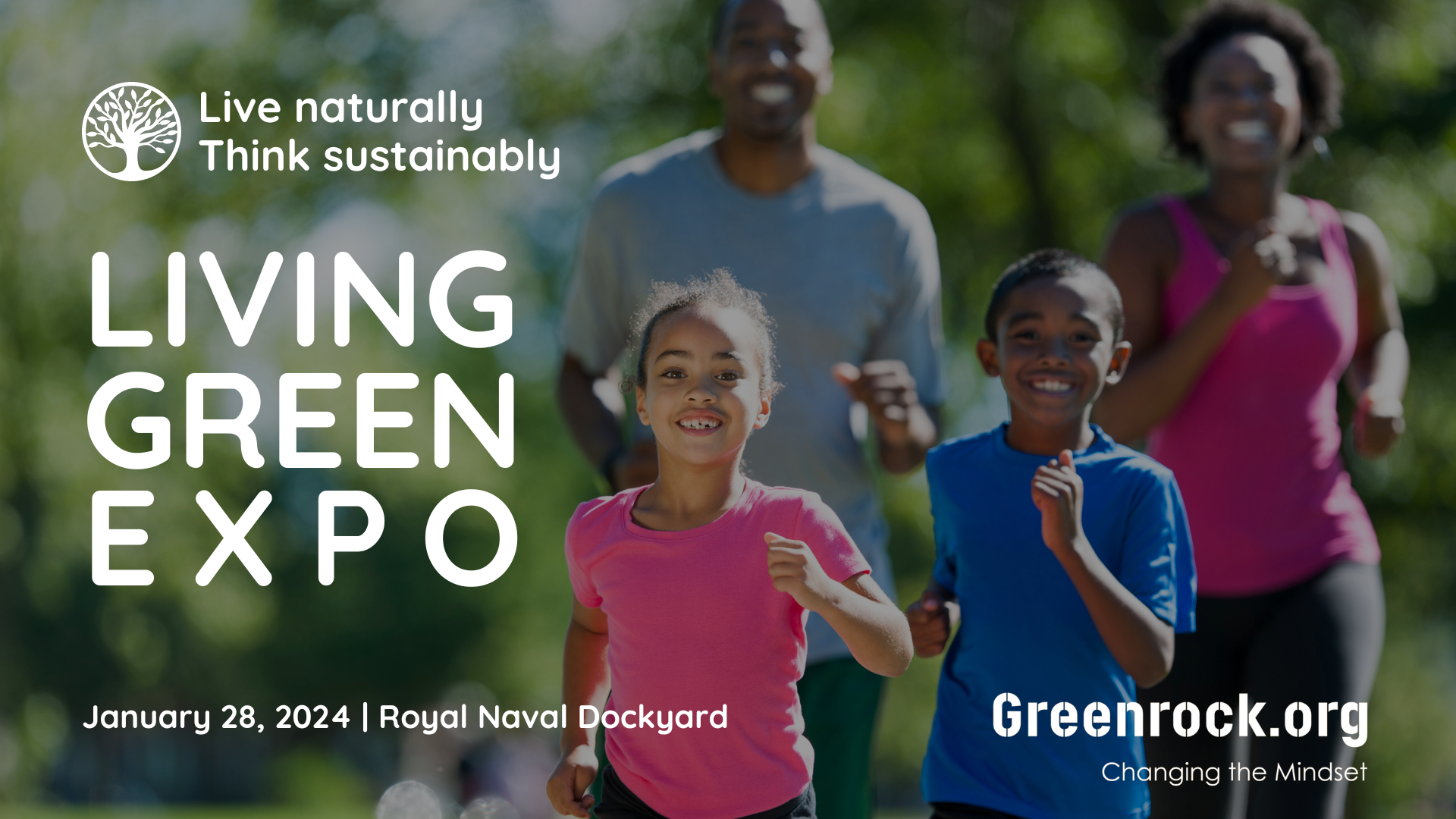 Living Green Expo Event Details
Date: Sunday, January 28th, 2024

The event will take place from 10 am - 6 pm at The Shed in Dockyard. 
Below is a draft schedule of activities to be held that day:
10:00 AM Yoga Practice & Qigong Lesson - click here to register
10:00 AM 25K Bike Ride & Cycle Race - click here to register | view the map
10:00 AM 5K Walk & Run - click here to register | view the map
10:00 AM Vendor Village Opens
Live Entertainment

Vendor Village

Live Presentations

Organic Farmers Market 

Kids Activities 

Environmental Films

Vegan Food Court
6:00 PM Vendor Village Closes
View the Living Green Expo Overview
Download the Living Green Expo Sponsorship Form | PDF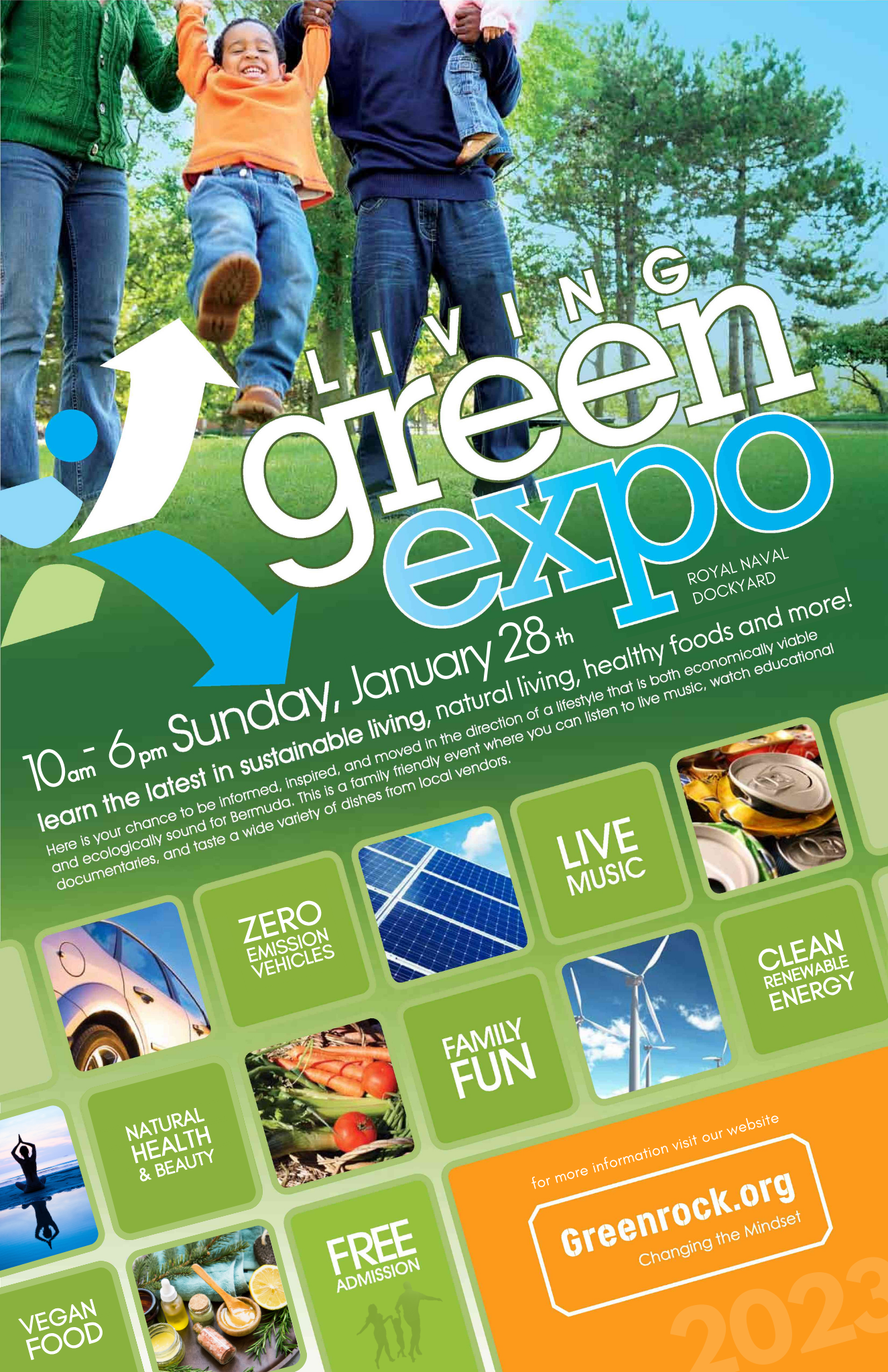 Pre Expo Activities
Friday, January 26th
Expo Vendor Reception | time and venue to be determined
Saturday, January 27th
Film Screening & Discussion | time and venue to be determined
Areas of Interest
Renewable Energy


Renewable energy is energy from renewable resources that are naturally replenished on a human timescale. Renewable resources include include sunlight, wind, the movement of water, and geothermal heat.
Energy Efficiency


Energy efficiency is the practice of using less energy to provide the same amount of useful output from a service (such as heating water, lighting, or cooling a fridge). It is one of the easiest and most cost effective ways to reduce emissions, clean the air we breathe, improve the competitiveness of our businesses and reduce energy costs for consumers.
Sustainable Living


Sustainable living describes a lifestyle that attempts to reduce the use of Earth's natural resources by an individual or society. Its practitioners often attempt to reduce their ecological footprint by altering their home designs and methods of transportation, energy consumption and diet. Its proponents aim to conduct their lives in ways that are consistent with sustainability, naturally balanced, and respectful of humanity's symbiotic relationship with the Earth's natural ecology.
Zero Emission Vehicles


A zero-emission vehicle, or ZEV, is a vehicle that does not emit exhaust gas or other harmful pollutants from the onboard source of power. Harmful pollutants to our health and the environment include particulates (soot), hydrocarbons, carbon monoxide, ozone, lead, and various oxides of nitrogen.
Natural Health & Beauty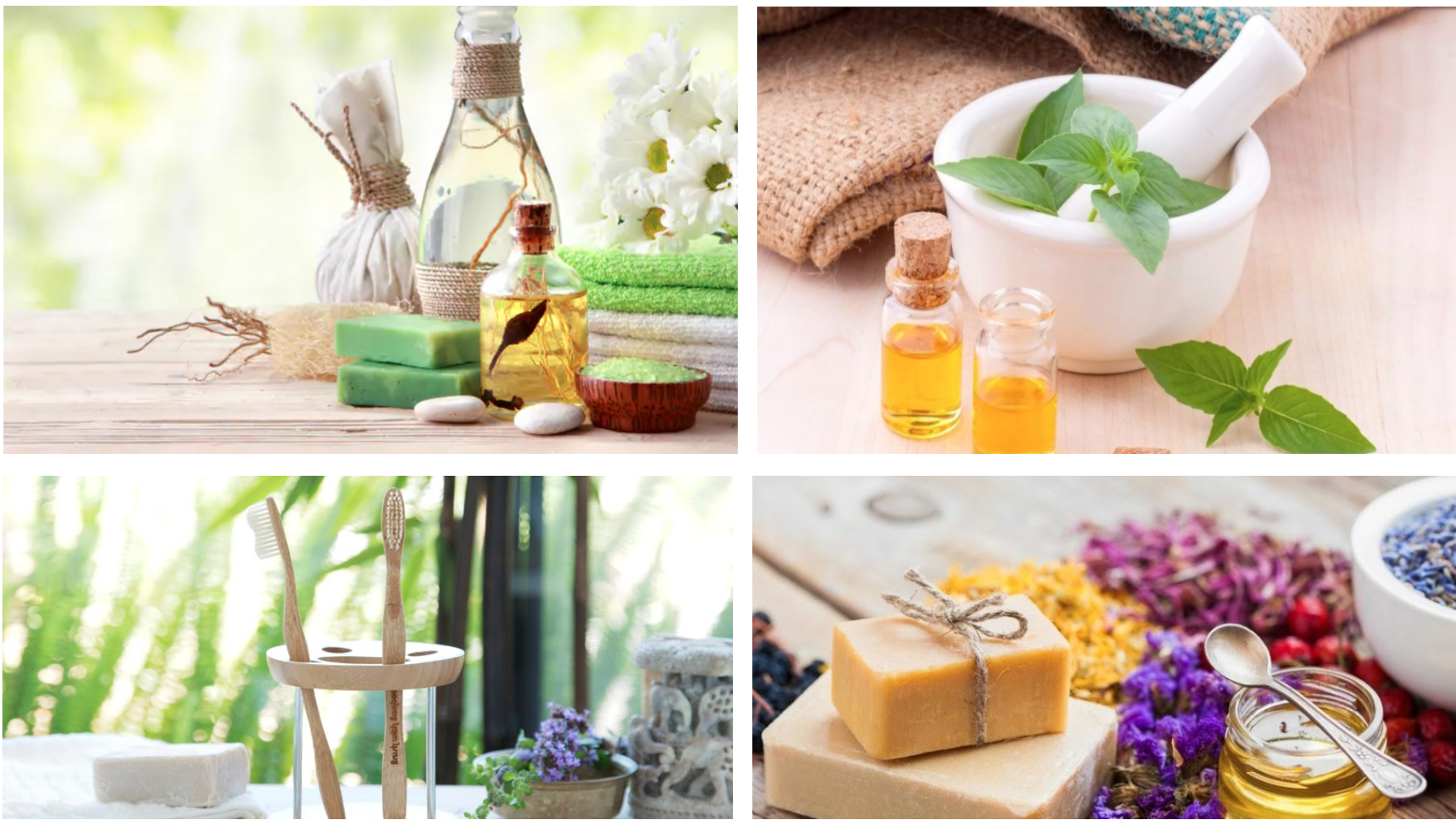 Natural health and beauty products are those that use ingredients derived from nature, such as plants, minerals, or vitamins, and avoid harmful chemicals, such as parabens, sulfates, or artificial fragrances. Natural health products can help keep us balanced and support our well-being, while natural beauty products are understood to be better for our health and the environment.

Holistic Health


 Holistic health is a philosophy or way of life that considers the whole person: body, mind, and spirit. It draws from ancient healing traditions and wellness-oriented lifestyle choices to prevent disease and promote well-being. Holistic health approaches include traditional and complementary medicines, such as yoga, massage, herbalism, aromatherapy, and homeopathy. Holistic health also involves emotional and mental counselling, self-help resources, and personal empowerment. Holistic health practitioners use natural plant extracts, essential oils, and customized supplements to support health and healing.
The Vendor Application process is open until Friday, December 29th, 2023

Transportation Options
Take advantage of free parking in Hamilton on Sundays and enjoy a 20 minute ride to the Living Green Expo via ferry. 
Cash: Adult $5.00 Child (Age 5 - 15) $2.75  |  Tokens: Adult $4.50 Child (Age 5 - 15) $2.75  |  Under 5 years old is free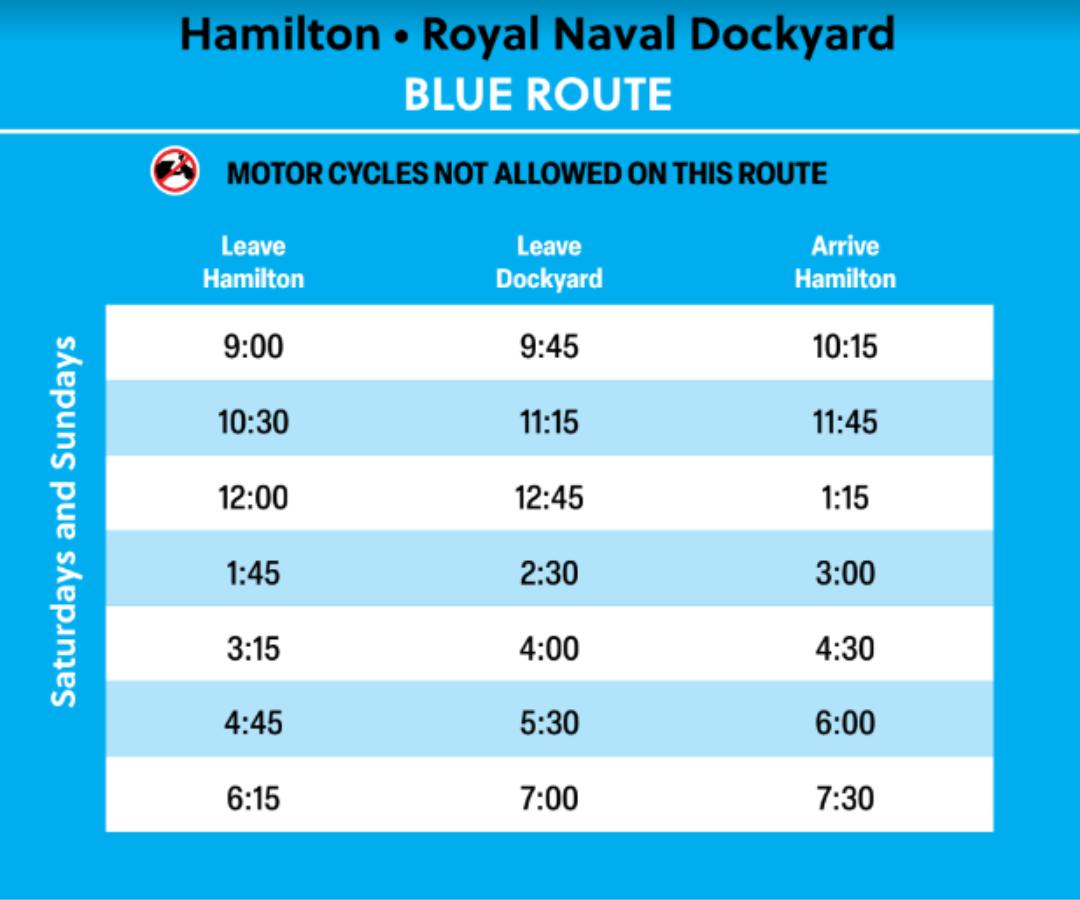 Hamilton Ferry Terminal open Monday - Friday 7am -7pm • Saturday, Sunday and Holidays 8:30am - 6:00pm.  For further information please call Hamilton Terminal 295-4506. Service is subject to change.  For additional information please visit www.marineandports.bm
Photo Gallery