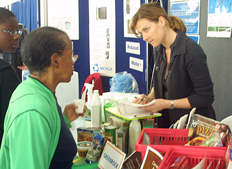 Health Fair Goes Green
Greenrock's booth at the 2008 Argus Health Fair on Wednesday, April 9, was a resounding success. Greenrock joined forces with Consumer Affairs to share information with the public on this year's theme of "Protecting health from climate change". The Greenrock booth focused on "Practicing Responsible Product Stewardship for Your Health and the Environment".
More than 2,000 members of the community attended the Health Fair at #6 Shed, where over 30 health-related charities, organisations and medical professionals provided informative and interactive displays.
Greenrock's booth covered three main issues: healthy water, healthy eating, and eco-product lines available in Bermuda.
For the healthy water component, Greenrock provided information on ways consumers can save money and the environment by consuming healthy tank water in a refillable container. We gave tips on maintaining and testing their tanks, conserving water, and filter systems available in Bermuda. James Gilbert, a representative of Clearwater Systems, demonstrated the AquaMaker "water from air" watercooler and assisted in a taste test of four waters available in Bermuda: tank water, bottled water, AquaMaker water and Pure Water.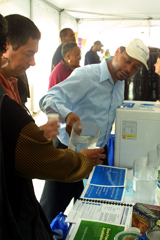 More than 50 people of all ages participated in the taste test, each marking their preference. The results revealed that there was no overall preference; in fact, general comments were that they were "all good" and "all taste like water". An analysis of the water samples was also available, tested by lab technicians at Bermuda College who found that the only water that did not pass the Bermuda Drinking Water Standards Maximum Acceptable Limits determined by the Bermuda Government was Evian, a bottled water from France. Both the sample tank water and the AquaMaker water were well within the acceptable limits. As a result of preliminary data from the water taste test and the water tested, Greenrock was able to encourage consumers to use refillable water bottles of their own filtered tank water.
For the healthy eating component of the booth, Greenrock displayed information pertaining to product stewardship, showing consumers what to look for in products before they buy, such as recycled and minimal packaging, sustainable materials, high-efficiency appliances and reusable products.
We gave a breakdown of how much a family of four could save by doing this: $2,000 a year by buying bulk rather than individual portions; $2,000 a year using energy efficiency appliances; $1,000 a year buying reusable, rechargeable, long-lasting products; and $30 a year per CFL bulb.
Greenrock explained what organic food is and how it benefits the environment and human health, and listed ingredients to avoid in one's foods, such as hydrogenated vegetable oil, sodium nitrite, butylated hydroxyanisole (BHA) and potassium bromate (in breads). A basket of common convenience foods was on display, with enlarged lists of ingredients to draw consumers' attention to chemicals and preservatives that are often overlooked. This was compared to a basket of healthy alternative foods, both raw and convenience packaged.
Finally, Greenrock displayed a large sample of eco-product lines, including food, childcare and cleaning products available in Bermuda, sponsored by Lindo's.
The booth was extremely well-received, and consumers were eager to pick up a BYOB Bag - in fact, we quickly sold out!
A special thank you to volunteers Laura Semos, Amy Harvey and Andrew Vaucrosson for organising the booth and helping to make it such a success; Bermuda College students Natalia Wellman, Shanaye Smith, Tori Burgess and Isha Douglas, who helped to man the booth; James Gilbert for his tireless work speaking about water filter systems and the Aquamaker; and Zach Moniz of Lindo's for donating products for display at the booth.