'With about three quarters of the US kid population actively gaming online, we think our Global Challenge game is a great way to connect them to the pro-social issues they care about, like the environment,' said Marva Smalls, Executive Vice President of Public Affairs, Nickelodeon Kids and Family Group. 'Our legacy of empowering kids has shown that they can lead the way in addressing positive change, and we hope this game can be the beginning of a kid-led environmental movement.'
After downloading it to your PC or Mac you have a fully 3D third-person-shooter where you must help 'green' the last three pollution-free cities on the planet. Users play as a famous Nicktoon character, such as SpongeBob SquarePants or The Fairly OddParent's Timmy Turner, and work with others as a team to turn opponents of planet greening in the right direction.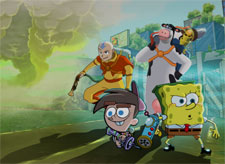 Partnering with characters like Otis (Back at the Barnyard) or Aang (Avatar: the Last Airbender), users work to defeat monsters like the Carbon Creeper, a giant scorpion of unrecycled trash, Bulb Bot, an energy-wasting light bulb monster, or Guzzlor, a gas-guzzling tractor-trailer. Each villain is given a health point count, very similar to the way many RPG video games are set up. Moving through nine game levels, kids will get tips about how to lower their carbon footprint.
Upon completion, the downloadable computer game aims to keep its players in the right frame of mind by navigating users to an online meter that requests an individual commitment to help contribute to the pro-social initiative.
Everyone who wants to play the game must take a pledge to reduce their carbon footprint. With that pledge comes a virtual checklist of changes that can be made, such as 'travelling by foot, bike, etc. instead of by car for four miles each week.' At the end of every gaming session, players can track their progress and see how they are making an impact.
The Big Green Help is a multiplatform campaign that provides information and tools to help explain climate change to kids, and taps into Nickelodeon's history of addressing important issues. Backed by an increasingly diverse slate of pro-social initiatives and community-based guidance groups, The Big Green Help has spent years raising kid awareness of the state of the environment, emphasising positive attitudes and energy conservation.
Its Plan It for the Planet special in 1993 discussed the environment and how kids can affect positive change; The Big Help created a generation of 40 million kid volunteers; and its Let's Just Play encouraged millions of kids to adopt healthier lifestyles.
Other items on The Big Green Help website are daily kid-friendly green tips, a glossary explaining commonly used environmental terms and a quiz. There are also other games that can be played, including SpongeBob and Patrick's Dirty Bubble Busters, The Naked Brothers Band Polar Bear Bounce and Jimmy Neutron's Slow the Flow.