In 2007, Works and Engineering (W&E) opened a new multimillion-dollar, state-of-the-art Material Recovery Facility (MRF), able to process and sort Bermuda's current and future volumes of recyclables efficiently and effectively. The opening of this new plant, along with a publicity campaign, confirmed Government's commitment to the importance of recycling in Bermuda. The campaign educated the public on what can be recycled on the island and encouraged locals to become active recyclers.
Bermuda's location so close to North America and our many workers from around the globe contribute to the confusion of what we actually recycle here. W&E tried to keep it simple in their campaign by using the acronym TAG, which represents the materials recycled in its residential blue-bag programme:
To start recycling your TAG items, simply place them in a clear blue bag by the road on your designated collection day. For those residents living on the west side of the island, collection is on Thursdays. Those in the east have collections on Fridays. It is so easy that there just isn't any excuse not to recycle.
People generally forget about their trash once it gets put out on the kerb, but that's just the beginning of the story, especially for recyclables. Blue bags end up at the MRF, where they are separated into the three recyclable streams by the automated system.
Tin is separated from the rest using a magnet, while the light aluminium cans are detected by a sensor and blown into storage bins. The tin and aluminium are then baled and shipped off the island to recycling plants in the US for sale. The glass is crushed into various grain sizes and stored for use on island. The glass grain can be used in roads, retention walls and even in the development of golf courses.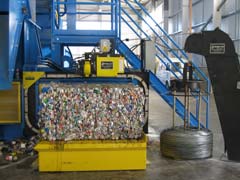 Despite being an automated operation, the recycling plant still requires labourers to sort the contaminants that people put into their blue bags. Plastic must be removed as well as any other non-TAG materials, such as food and bulky items that might interfere with the equipment. It is important to remove contaminants as the value of each bale of aluminium or tin is subject to how pure they are.
Bermuda's new plant has the ability to process up to 10 tonnes of recyclables per hour. At the moment the plant receives about 25 tonnes of residential recyclables and 7 tonnes from the commercial sector per week. Based on a residential waste audit carried out in 2006, Bermuda residents were estimated to throw away roughly one third of a tonne of household trash per person per year. Fifteen per cent of this waste consisted of tin, aluminium and glass and could have been recycled. In short, we can do better. Our recycling plant is underutilised and can handle a greater volume than it is currently processing.
Since 2007, the recycling programme has evolved to include more than just TAG. While the residential blue-bag kerbside collection programme still focuses on TAG, other recyclables are being diverted to the MRF. Mostly these items are considered e-waste. Things like air conditioners, computers and cell phones are being collected at the MRF and prepared for shipment overseas, where they are recycled at approved facilities. The hazardous waste programme operated by W&E collects items such as oil, paint, and vehicle and household batteries and prepares them for shipment overseas for recycling.
Some people may find sorting their trash daunting, but it is very simple and important to maintaining a healthy and clean island environment. If you wish to know more about your household waste and where it should end up, just look in the Government pages of the telephone book where a published list of 'What Goes Where' maps it all out.
Attitudes towards recycling vary within Bermuda's society, and the opening of the new plant has led to a small increase in recycling activity. However, more residents and businesses need to jump on the recycling band wagon. Recycling is important in saving energy on a global scale because making products from recycled goods uses less fossil fuel.
But for Bermuda recycling is important for another reason. The major items recycled here were chosen specifically because of their impact on the Tynes Bay incinerator. Basically, tin, aluminium and glass do not burn easily and can even cause malfunctions in the incinerator. The hazardous waste programme also focuses on materials that need to be kept out of the incinerator to prevent harmful substances releasing into the atmosphere.
The Bermuda public needs to become more educated and more responsible when disposing of their household waste. Gone are the days when we could just throw it out and forget about it.
For more information on waste management in Bermuda, visit www.gov.bm or call the W&E Waste Education and Enforcement Officer at 297-7953. To report problems with your waste collection, call 292-7454.