However, as I've grown older and become more aware – yes parents, it does happen one day – instead of mountains of delicious candy, I see a mounds of wrappers that fill our trashcans. Instead of a vast array of creative costumes, I see outfits that are only worn once then abandoned or thrown away. Even the thrills of haunted houses and Halloween games are fringed with gloomy knowledge that most of these things are destined for a future career as landfill.
Yet Halloween doesn't have to be a festival of waste and wrapping. In fact, the holiday we know today derives from the ancient Gaelic festival Samhain that marked the end of the harvesting season, when stocktaking and resourceful planning for the upcoming winter were done. There are plenty of ways to get in touch with the resourceful-minded historical roots of this fun fall festival and make your Halloween frightfully green.
A ghoul that keeps on giving
If you decide to light your darkened doorstep with a creepy, funny or zany traditional Jack-o'-lantern, make sure you check with one of the local farmers for a fresh pumpkin. When carving out the 'guts', set aside the seeds and flesh of the pumpkin. You can make delicious pumpkin soup with the flesh, or try baking mini pecan pumpkin pies to replace store-bought treats (www.foodnetwork.com). The seeds can be roasted as another tasty Halloween treat … or save a few and grow your very own Jack-o'-lantern next year. Or how about baking up a batch of naturally low-sugar, gluten and dairy-free pumpkin mini-muffins?
Trash dressed up as treasure
Reduce your waste this holiday by recycling some of your trash (especially plastics!) to make Halloween decorations instead of buying new ones. You'll not only reuse non-recyclable trash items, you'll cut down on plastic wrappers and packaging.
Coffee tins and paint cans: Clean the cans and fill them with cold water, leaving two inches of space at the top for the water to expand as it freezes. Place the cans in the freezer until the ice is solid, then paint them black – or any other colour – and punch designs in the sides with a hammer and nail. When the ice has melted, place a votive candle in the bottom and you have a personal Halloween lantern.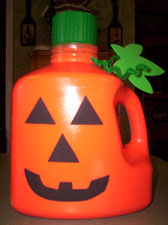 Laundry detergent jugs: With a little paint, patience and creativity, you can convert an unwanted detergent container into a Jack-o'-lantern or a cool black cat. Visit craftingagreenworld.com for instructions.
Paper and cardboard: These items are not commercially recycled in Bermuda, but they can be personally recycled into great masks galore! There are plenty of options for kids of all ages and abilities. Some ideas include making papier mache masks; cutting templates out of cardboard and decorating them with feathers, paint and glitter; or simply shaping construction paper into any character you wish (see www.greenhalloween.org for directions).
Old costumes: If you're a member of a PTA or another social committee, organise a Halloween costume exchange. Ask kids and their parents to bring in their old costumes and clothes, and find gently used, new-to-you costumes each year.
Treats and tricks for you and the environment
This year, do something a little different from the other houses in the neighbourhood. Instead of paper or plastic treat bags, convert old pillowcases into reusable bags that your kids can decorate and personalise. Cut your energy consumption and create a very convincing spooky atmosphere with candles (don't leave them unattended though!) or use LED lights. Replace plastic decorations that can be harmful to the environment with natural décor like old man's beard or dried branches and leaves. Rather than buying bulk-packaged candy, try making these trash-free treats with your kids … they're even a bit healthier!
sugar cookies in fun shapes and iced designs
candy apples
goblins' eyeballs – make holes in the ends of grapes just big enough to fit in a currant or raisin, and then place the 'eyeballs' in a bowl or jar with apple juice to keep them moist
trick-or-treat trail mix – combine dried fruits, nuts or roasted pumpkin seeds, M&Ms or smarties, and other little nibbles in a big bowl and toss well.
For older kids, take some inspiration from UNICEF and organise a trick-or-treat for charity, going door to door collecting donations for charity in exchange for a small homemade token of appreciation. Watch the video below or visit youth.unicefusa.org/trickortreat/ to learn more.
Hopefully these tips will inspire you to come up with some fiendishly clever ideas to make your Halloween less wasteful but just as fun.
Greenrock wishes everyone a safe and happy Halloween!