Saltus Upper Primary students care about the environment and want to do their part to protect it.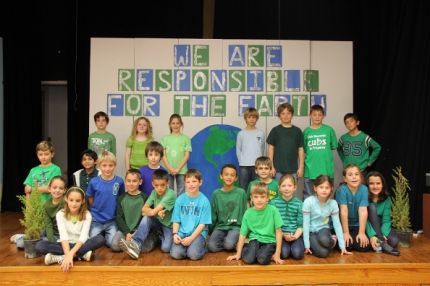 Saltus Grammar School, Upper Primary, Class 4E
Last month, the 8 and 9 year old students in Ms. Erika Powell's 4E class presented 23 simple ways to take care of the earth during school assembly.
Although many students already bring trash free lunches or use a recyclable water bottle at school, other ideas included carpooling with friends, limiting the amount of paper they print, composting their fruit peels, or joining the UP Eco Club. The class also sang "Nature Baby," along with another song called "The Three R's" which explained how we should work together to reduce, reuse and recycle our trash at school. At the end of the assembly, 4E students reminded everyone that, "when we all do a little to help the earth, we can make a really big difference."
Press PLAY below to take a look at all 23 of their ideas.
Greenrock commends class 4E, their teacher Ms Erika Powell, and the Saltus Eco Club.
Interested in making your school more eco-friendly? We can help! Greenrock's School Roadshow introduces students to sustainable living concepts, while each Green School project helps a school become a 'greener' learning environment. To find out more, browse our website or contact This email address is being protected from spambots. You need JavaScript enabled to view it..