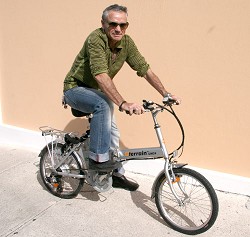 Michael BurkeMichael has been SCUBA diving since the age of six, introduced to the underwater world by his father, Kevin who operated Sea Safaris from Sonesta Beach for many years in the 1970s. It was here he would spend his days helping out and meeting many interesting people who vacationed on the Island, and some of whom are still close friends and very much part of his life.
Michael purchased the assets of his father's business in 1983 and merged with another dive shop creating Blue Water Divers & Watersports, of which he's been sole owner for the past 6 years. The business was expanded from 1 to 3 locations, once sole control was gained. Michael has worked in the tourist industry for basically his entire life so this is his livelihood and his passion. Having been so close to the sea and nature has helped instill an understanding and subsequent caring of the environment and this permeates through everyday life.
Update September 2012:
Blue Water Divers & Watersports was recently sold and now Michael has more time to devote to sustainability in his product offers and energy efficiency; through his new company- "thegreenhousebermuda" These are the 2 pillars of his new business…thegreenhousebermuda. The business initiated in late 2009 and is blossoming.