{jb_quote}I have always wanted to know as much as possible about the world.{/jb_quote}
– Linus Pauling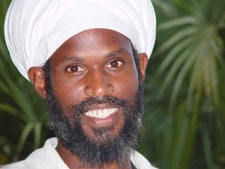 Greenrock School Roadshow presenter, Eugene Dean
Launched in 2006, Greenrock's School Roadshow introduces students to sustainable living concepts.
The School Roadshow is a free education service that supplements the existing school curriculum to further a better understanding of sustainable development, and what it means for Bermuda.
Each year, Greenrock introduces a new theme to inspire our young people to make sustainable lifestyle choices. With the launch of Greenrock's Eco-Schools Programme, the Roadshow has now merged as an introduction to and inspiration for participation as an Eco-School.
The Need
Awareness of the environmental and our impact on the sustainability of our environment is critical for students so that they:
Develop an interest in investigating environmental issues and concerns
Acquire attitudes of care and concern for the environment
Adopt behaviours and practices which protect the environment
Understand the principles of sustainable development
Our Approach
The School Roadshow is offered free-of-charge to all schools.The content is always evolving and has a new sustainability related theme each academic year. The School Roadshow combines a multi-media presentation with an inter-active exchange which is more of a conversation than a lecture; which serves to stimulate thought in students. The exact format can be adapted for a school assembly or classroom setting.
School Roadshow themes;
Greenrock consult widely within the Bermuda community and abroad to ensure the content of our School Roadshow is current, accurate, meaningful and relevant locally.
In 2012, Greenrock improved the longstanding School Roadshow to ensure it provides a firm foundation for our new Green Schools program. The Green Schools program empowers schools to improve student performance and health, while decreasing operational costs and protecting the environment. Each Green School project involves a whole school community – including teachers, pupils, parents and support staff – in assessing their own school environment and in taking steps to make the school more sustainable.
Contact
To find out more or book our School Roadshow, please contact This email address is being protected from spambots. You need JavaScript enabled to view it..