Unlike fossil fuel or nuclear power stations which circulate or evaporate large amounts of water for cooling, wind turbines do not need water to generate electricity.
How it can be done in Bermuda: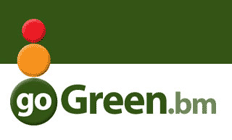 goGreen.bm
, in partnership with Swift Rooftop Wind Energy System™, is authorized to sell and service Wind Turbines in Bermuda. The Rooftop Wind Energy System has been designed to be environmentally sustainable. The product produces more energy in its lifetime than is incorporated in the materials and processes used to manufacture it! On average, a single rooftop system installed in the U.K. will save 1.4 Tonnes CO2 per annum.
The annual power supplied is between 2000-3000 kWh and the design enables its use in turbulent air flows – excellent news for Bermuda's Hurricane Season! The silent mast mounting technology eliminates unwanted vibration to buildings and homes and its low profile construction isn't sore on the eyes either!
Did You Know?
In Bermuda, heating hot water in our homes accounts for between 25 and 30 percent of the average domestic energy bill? Yikes!
ADDITIONAL INFORMATION (www.gogreen.bm )

Royal Gazette Feb. 23rd, 2007

Wind turbines:'As it's not noisy, it's not going to be an issue'

If you live in Somerset renewable energy is coming to a neighbourhood near you. Government planners have given Simon Hodgson permission to place a wind turbine on the chimney of his father's home just off Scott's Hill Road.

It's the first time the Department of Planning has given the green light to this kind of domestic renewable energy scheme. "The breakthrough is that it's silent, it doesn't make any noise," Mr. Hodgson told The Royal Gazette in an interview. "The planners obviously don't believe that because they've only given us a year's permission."

Concerns over noise has always been a roadblock for people who want wind generated power. But the company Mr. Hodgson plans to use, called Renewable Devices, says it has "the world's first silent, rooftop-mountable wind turbine". The product is called Swift and has sold well in Britain and has recently hit the market in Scotland. Mr. Hodgson said: "They're not going to let them install them in Britain in neighbourhoods if they're noisy. "That's the big breakthrough because all the other turbines are quite noisy and they always had to be in a rural context. I think as long as it's not noisy, it's not going to be an issue."

The Swift turbine is six feet in diameter and mounts either on a gable or a chimney. It should produce between 2,000 and 3,000 kilowatt hours of energy according to the company's specifications. Mr. Hodgson plans to use it exclusively for heating hot water, which makes up between 25 and 30 percent of the average domestic energy bill. It's an immediate savings, plus it eliminates as much as 1.4 million tonnes of carbon dioxide emissions per year because it's powered by wind – not fossil fuels.

Although he has the planning approval, it will be awhile before Mr. Hodgson moves forward with installation. He still needs a building permit and the UK Company still has to ship the turbine. Meantime, Mr. Hodgson is awaiting planning approval for a second wind turbine in Warwick. His friend Tim Miller wants one at his Warwick home to go along with the solar thermal panel on the roof.

Together the men are thinking about turning their affinity for renewable energy into a business model – supplying like-minded locals with alternatives to supplement the energy they're getting from power plants. Mr. Miller said: "At the end of the day I don't think we have gone far enough down the road to say this is a viable business model. Wind turbines are not the answer; it's one of the answers. Photo Voltaic, a type of solar panel, is an answer. So that when you have no wind, you have the sun." Wind turbine installation does require a degree of contingency planning because on windless days, the household will need traditional methods to heat water.
Mr. Hodgson has certainly considered those issues and will plan accordingly, but seems pretty confident that the hilltop terrain of his father's neighbourhood will provide the necessary breeze.