How it can be done in Bermuda: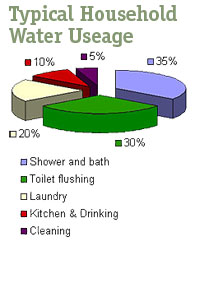 Bermuda homes are largely water and waste independent. This is good news as you, the occupant, control the quality and the quantity of water that you consume. During the summer and in times of drought, water conservation is of paramount importance and sometimes even this does not spare us from running out of water.
A Grey Water system captures the water that is going down the drain from your shower, bath and laundry. Instead of going to the cesspit, the water is filtered, chlorinated and stored in a holding tank. It is then used solely for the purpose of flushing the toilet.
goGreen.bm, in partnership with Brac Systems of Canada, is authorized to sell and service the Brac Grey Water Systems in Bermuda. This system has been approved by the Bermuda Health Department for installation into Bermuda homes and it must be installed as per the guidelines of the Health Department.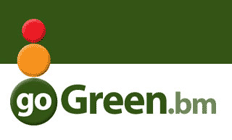 ADDITIONAL INFORMATION
(
www.gogreen.bm
)

Bermuda Health Department Recommendations

The following details the requirements that must be meet by the installation of a grey water system prior to it being acceptable to the Heath Department. If you do have any further questions or need further clarification on the installation of a grey water system please contact goGreen at 333-7799 or email This email address is being protected from spambots. You need JavaScript enabled to view it..

To ensure compliance each installation must be inspected by the Department of Health (Environmental Health).

The potable water (tank water) supply must be protected with a double check valve assembly (for typical household installations) as per the International Plumbing Code. A reduced pressure principle backflow device may also be required for certain applications – your plumber will know what is required. The backflow prevention device should be tested annually to ensure that they function correctly. The grey water system must be located in a pump room or cellar and in an area that provides easy access for servicing.

The cleanout valve must be connected to a drain that enters a grease trap or vented trap system to the kitchen/laundry pit when the unit is being cleaned. The kitchen sink drain must not be connected to the grey water system. The disinfected grey water must not contain more than 10 faecal coliforms per 100ml – this can be confirmed by picking up and dropping off to the Health Department a water sample kit.

A by-pass to allow potable water to feed the toilets would be required to avoid inconvenience while the unit is serviced. All pipes will be required to be properly labelled. Grey Water Systems are only to be used for flushing of the toilet.|

goGrey FAQS

What is grey water?
Grey water is the water generated from the use of the shower, bathtub, hand sink, laundry, kitchen sink and dishwasher.

Is grey water different from wastewater?
Yes. Household wastewater, also known as sewage, is composed of two distinct sources: "Blackwater" is wastewater contaminated by faeces or urine, and includes wastewater arising from toilet, urinal, or bidet. "Grey water" is the remaining wastewater coming from the laundry, bathroom and kitchen.

Why should I use grey water?
Grey water is a significant water resource, provided it is managed in an environmentally responsible manner, and public health and the health of the household are protected. By capturing grey water and using it in an appropriate manner it is a viable alternative to using water supply for the flushing of home toilets. It thus provides an opportunity to reduce the amount of water that you consume.

Is it safe to reuse grey water?
Yes, if used in an appropriate way. Grey water can contain disease-causing micro organisms such as bacteria, protozoa, viruses and parasites. It may also contain fats, oils, detergents, soaps, salt, nutrients, food and hair derived from household and personal cleaning activities. These constituents can pose both health and environmental risks however, the public health risks associated with onsite reuse of domestic grey water are considered low, as the source of the contamination would be from the immediate family. Other sources of pathogens around the immediate family are considered a higher risk, such as direct contact or sharing of food and utensils. Similarly, the risk of environmental damage from the careful use of grey water is low.

How can I reduce the risks associated with grey water reuse?
The following measures will reduce the health and environmental risks associated with the use of grey water;
• do not use sprinklers to distribute grey water
• use subsurface irrigation systems
• do not spray grey water directly onto food plants
• do not put grey water on lawns where children are likely to play
• do not irrigate with grey water during periods of wet weather
• do not allow grey water to enter the storm water system
• make sure grey water does not create a nuisance, for example through odours or ponding.

Do I need a plumber?
If your grey water system requires connection to the sewage system, i.e. to the pipes below your sinks, shower or bath, a licensed plumber must do this work. If you intend to intercept grey water before it enters the sewage system, i.e. before it enters the drain hole of a sink, you can do this yourself. This may be a simple setup in which you bucket water from a sink, or direct the water from your washing machine to your garden.

Can grey water from all parts of the house be reused?

Kitchen
Kitchen wastewater could be heavily polluted with food particles, oils, fats, and other wastes. It can also contain high concentrations of micro organisms. It is often polluted with detergents and cleaning agents, particularly those from dishwashers, which are very alkaline and may be harmful to soils and plants. For these reasons kitchen grey water is not allowed to be used in a grey water recycling system.

Bathroom
Chemical constituents of bathroom grey water include soap, shampoo, hair dyes, toothpaste and cleaning chemicals. Grey water from hand basins is more polluted than bath or shower grey water, but is much lower in volume. Some of these contaminants act as plant nutrients and can be beneficial in the garden, but others can be harmful to plants and to the soil. Concern is often expressed about people urinating in showers and baths and the associated health aspects of using grey water in the garden. However, urine in a healthy person is sterile. While some bladder infections may pass micro organisms in urine, the potential for these organisms to survive and cause infection is considered remote. Grey water from the bathroom is suitable for reuse.

Laundry
Grey water from the laundry improves in quality from wash water to first rinse water to second rinse water. Bacterial loads in laundry grey water are not usually high, except when diapers are washed. Chemical contaminants of the wash cycle water are soap, salt, sediment and organic material. If used for garden watering, the wash cycle water can damage plants and soils and create bad odours. Rinse water contains a much lower pollutant load and the use of this water poses a much lower threat to the environment and to the public health. Domestic pets, which are washed in the laundry tub, can be a further source of contamination for grey water. Grey water from the laundry, particularly rinse water is suitable for reuse.

Can I store grey water on my property before I use it?
It is recommended that untreated grey water is not stored for more than 24 hours. When the immediate reuse of grey water is notpractical, for instance during periods of wet weather, grey water should be directed to the cesspit.

What is a grey water treatment system?
A treatment system will remove the bacterial load and chemical pollutants from grey water so that it can be stored. However, satisfactory treatment tends to be neither simple nor cheap. Treatment processes can include filtering, settling of solids, anaerobic or aerobic digestion, chemical removal of pollutants, and disinfection.

What are the environmental risks associated with reusing grey water?
Soil or plants can process many of the contaminants in grey water if the system is not overloaded, including organic material, nutrients, salt and sediment. Nutrients can even be beneficial in moderate concentrations. Some grey water contaminants are not capable of being treated or degraded in the soil. Principal among these is salt, which can comprise up to 30 % of some laundry detergents and can cause soil degradation.

How much grey water do households generate?
The amount of grey water generated by a household will vary greatly depending on the number of occupants, their age, and their water usage patterns. As a general rule of thumb, the average home generates approximately 110,000 litres of grey water per year from the bathroom and laundry. This is equivalent to 300 litres of water per day.

How can I improve grey water quality by using different types of soaps, detergents, etc.
The choice of cleaning products can reduce the environmental impact of grey water. Common washing powders contain sodium salts as bulking agents that produces saline (salty) grey water. Some detergents and powder cleansers contain boron that can be toxic to plants in high concentration. It is recommended that for clothes washing you select products low in sodium: either liquid concentrates or powdered products that use potassium salts.

What is required to look after my Grey Water System?

Q: What is involved in cleaning the Brac System?
A: There are two simple cleaning procedures: Cleaning the filter, and flushing the holding tank.

Q: How do I clean the filter? And how often?
A: Every two to three weeks, simply remove the filter and rinse it. Soaking the filter in a vinegar solution on occasion is also recommended.

Q: How do I flush out the tank? And how often?
A: Drain the holding tank through the cleanout valve, add a vinegar solution, allow to soak for a short time and drain again. This should be done once a year.

Q: Are there any other products I should use with my Brac System?
A: We recommend dropping a tri-chlor tablet (available in bulk at pool supply stores) or a Lysol Brand Continuous Action Toilet Cleaning Tablet through the filter housing into the bottom of the tank every eight weeks or so. The use of chlorine tablets will prevent the growth of bacteria in the tank, and any accompanying odours. You may also choose to use a tablet of your choice in your toilet tanks. In addition you will know to add another tablet when an odour begins to appear, this will be particularly noticeable when flushing.

Q: Will the chlorine tablets cause problems with my cesspit?
A: Considering the concentration of chlorine in the volumes of water involved, the chlorine in your grey water shouldn't cause any problems in a modern, healthy cesspit. While we haven't had any reports of problems, there could be issues with older, smaller cesspits that are already operating on the edge of failure. In such cases, you should use the Lysol tablets instead of the swimming pool type tri-chlor tablets. The Lysol tablets claim on the packaging that they are not harmful to septic tanks. If you choose another brand, be sure to check the packaging for a statement about septic tanks. Not using tablets at all is not recommended, as unpleasant odours will almost certainly result after a few weeks.

Q: How concentrated will the chlorine be in the BRAC System?
A: We can't give an exact number, because the concentration of free chlorine will depend upon the exact quantities of water used in any particular case. However, through our own testing and observation using the 200g tri-chlor tablets in our test system, we have come up with the following approximate average numbers: A total of approximately 12.4mg/liter of chlorine is introduced to the grey water, with approximately 5mg/liter remaining free chlorine after treatment.

Q: How hard is it to install a Brac System?
A: While the connections are not difficult, your Brac System should only be installed by a qualified professional plumber. In new construction, it is easy to design the system into the plumbing of the home. In an existing home, new water supply lines for the toilets will need to be installed, and some of your drains will need to be rerouted. You should consult a plumber for an evaluation of your existing construction to determine the feasibility/difficulty of installing a Brac System in your particular situation.

Q: What happens in the event of an extended power outage, or if my Brac System needs to be removed for some reason?
A: When your plumber installs your Brac System, he should install a fresh water bypass with ball and check valves between the fresh water supply and the grey water outlet lines. This will allow you to easily supply your toilets with fresh water (and prevent the contamination of your fresh water with grey water) in the event of a problem with the Brac System or during cleaning. If the tank must be removed, a drain pipe can be easily fitted between where the grey water inlet and over flow drain, diverting your bath water to the sewer.

Q: Is a basement necessary to use the Brac System?
A: Not necessarily. The transportation of grey water to your Brac System is by gravity, so as long as the bathtub/shower/laundry drains are above the inlet of the filter housing, the system will function. For those who have a single-level home on a slab foundation, or who wish to utilize the Brac System in a "flat", a sump and pump kit, which consists of a sump basin and fully submersible sump pump. The basin is installed in the foundation or floor to collect grey water from bathing fixtures, and the sump pump automatically pumps the grey water up to the level of the Brac System inlet.

Q: You state that use of laundry water in the Brac System is optional, what issues should I be aware of when considering this option?
A: Based upon customer usage, we have found that on average, if every member of a household bathes once per day, the amount of grey water generated nearly matches the amount of water used to flush the toilets in that household. In addition, laundry water contains a great deal of lint, which will clog your filter quicker, requiring more frequent filter cleanings. Since the drain hose of a washing machine can be easily moved, you may even consider having both a traditional sewage drain and a grey water drain behind your washing machine, so that you can switch back and forth as your needs and convenience dictate.

Q: Why does the Brac System have a potable water connection?
A: The jet pump in the system can be severely damaged by allowing it to run dry. While an average household will produce enough grey water to keep plenty of water in the tank, there will be occasions, such as dinner parties, when visitors may be flushing your toilets frequently, but not bathing. The fresh water system insures that there is always enough water in your tank to prevent the pump from running dry. A float connected to a fresh water valve will add potable water from your home's plumbing system when the level of water in your tank reaches a minimum level, and will automatically stop adding water when the water reaches a safe level.