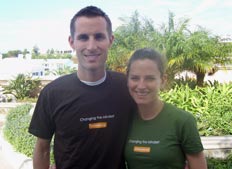 A running couple aren't just running for gold anymore. They are running for cash for local charities.
Validus Reinsurance has awarded runners Chris and Ashley Estwanik $5,000 each for the charity of their choice.
Mr. Estwanik, who works for Validus, selected Big Brothers & Big Sisters. Mrs. Estwanik, a teacher at the Bermuda High School for Girls, chose the environmental charity Greenrock ...
Read the rest of this story at www.royalgazette.com.
Read Ashley's story, 'Running for Greenrock'