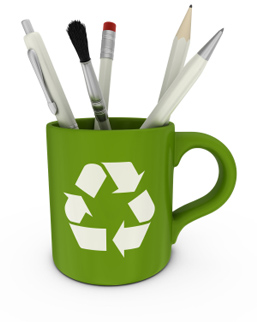 In our March Green Building Forum we had two presentations:
The first by Doug Soares, of Expertise Limited, on motivating change in organizations
The second was a presentation from Dan Lovett of Endurance on their Waste Audit
Doug Soares:  A discussion was held on how to bring about change in your workplace and how to motivate your staff. Some common change strategies include Education – which only changes some people, Fear – which may be effective in the short-term, and Power – effective but not always sustaining. These don't always work, so to lead a successful change initiative, the secret is Acceptance and Awareness of the need to change. These are imperative for any change to happen, along with A Better Alternative. Self-awareness and self-acceptance in individuals is the key to any changes in an organization.
Doug's presentation is attached below.
Dan Lovett: A Waste audit was done in 2012 at the Endurance offices, consisting of one and a half floors (about 115 people). The items identified were batteries, paper, glass, aluminum and plastics. Other elements needed were space to lay out and count the items, scales to weigh the items, gloves and protective clothing. The output consisted of about 100 pounds of material. The majority of this (about half) was paper products, with about 16% being printed office paper – equivalent to around 3 reams of paper. About 4% was made up of recyclable products. There was about 4 lbs of plastic waste (14% of audit).
Observations: Based on TAG in regular garbage only 1/3 of cans and 50% of glass is being recycled. There are also significant amount of contaminants. Even with Guardian disposal containers, 16% of paper is printed office paper. They intend to work with Legal to attempt to enforce this security issue.
Follow up: Introduction of mugs, plates and silverware. This was done but unfortunately, a lot of these items are disappearing.
Next Steps: Re-perform audit. Re-emphasize expectations of employees, which will be done prior to the move to the new offices.
Endurance's waste audit results are attached below.
 Doug Soares (700 KB)
 Endurance Waste Audit (1.49 MB)