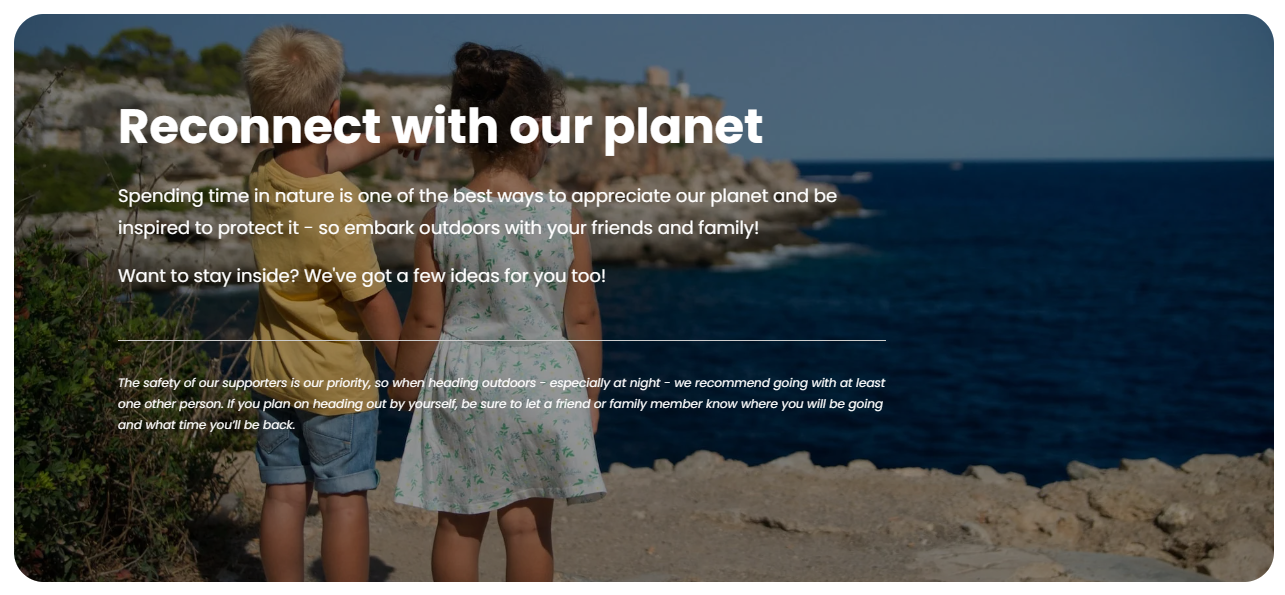 Friday, March 17th, 2023
REGISTER YOUR COMMITMENT TO PARTICIPATE IN EARTH HOUR 2023
Greenrock has officially registered Bermuda's commitment to supporting Earth Hour 2023 with WWF (World Wide Fund for Nature), and as a result, the registered charity has been working hard to step up its efforts locally.  This year WWF has been breathing new life into Earth Hour with a revised brand, an updated message, and a new mission to create the Biggest Hour for Earth.  
To achieve that they have been calling on supporters across the globe to:
Switch off their lights from 8:30 - 9:30 pm on Saturday, March 25th.

Give an hour for Earth by spending 60 minutes doing something positive for our planet.
Likewise, Greenrock is calling on everyone in Bermuda to:
Register

their individual and business commitment to participating in "Lights Out" during Earth Hour.

Give at least 60 minutes of their time to participate in some form of nature-positive activity.  
The latter can also be achieved by registering for any of the educational activities and environmental actions Greenrock has organized to extend our local efforts for nature beyond the hour.  
Taking into consideration how busy we can get in the modern world, Greenrock has created a comprehensive guide, packed with links to valuable information and creative assets designed to make getting involved easy for individuals, the private sector, schools and community organizations.  For access to the Earth Hour Guide for Getting Involved, please visit www.greenrock.org and there is a picture of the cover on the homepage.
Since 2007, Earth Hour has been known for the "lights off" moment, with individuals from around the globe switching off their lights to show symbolic support for the planet, raise awareness about environmental challenges and inspire environmental action all throughout the year.  At its heart, Earth Hour generates a global sense of community and solidarity.  Showing that people care about the environment and our future, while also demonstrating the power we possess as a people to make a difference and bring about monumental change.
Greenrock first introduced Earth Hour to Bermuda by hosting a public event at Newstead in 2008. Since then, Earth Hour has grown considerably on the island and evolved into an annual initiative that brings into sharp focus the need for the preservation of nature, environmental action, and the understanding and awareness required to live and use our resources more sustainably.
The theme for Greenrock's Earth Hour Campaign this year is Accelerating the Deployment of Renewable Energy and the goal of the organization is to raise funds from business and private contributions to complete the ongoing Offshore Wind Feasibility Study Series launched last year.
On Saturday, March 25th, from 6:30 pm to "Lights Out" at 8:30 pm, Greenrock, for the third consecutive year, will air the Earth Hour LIVE broadcast, featuring conversations about some of the goals the organization has for Bermuda, efforts being made in the community to live and operate more sustainably, and practical steps everyone in Bermuda can take to play their part in creating a sustainable future for generations to come. 
During the live broadcast, Greenrock intends to raise funds through pledges and donations, while encouraging the viewing audience to sign up as individual members and corporate supporters as well. 
Topics for Earth Hour LIVE 2023 are as follows:
What are planetary boundaries and how can humanity continue to develop and thrive within them for generations to come?
What is the Offshore Wind Feasibility Study Series and why is it important to the acceleration of renewable energy deployment in Bermuda?
Why is the RA requesting an update to the recent Energy IRP (Integrated Resource Plan)?
How is Fossil Fuel Energy Generation continuing to impact residents in proximity to the North Power Station and what are the neighbouring communities doing in an effort to see the current nuisances resolved?
What are the pros and cons of Offshore Wind Farms and how have countries that have implemented the technology fared in recent years?
How has the renewable energy market grown in Bermuda over the past few years and who has been benefitting from its expansion?
How to find the live broadcast:
Earth Hour LIVE will be broadcast on Channel 82, CITV, Bernews, RG Online, Greenrock's website, its YouTube Channel, and its Facebook Page.