This Year, Greenrock, in partnership with the Waterfront, is hosting Earth Hour Bermuda on Saturday March 28th 2015 8:30pm-9:30pm.
The event will happen - whatever the weather -
Bring your raincoats and your enthusiasm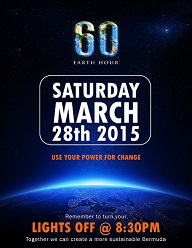 Join our Bermuda Earth Hour Council in the single, largest, symbolic mass participation event in the world. There are many fun and exciting aspects to this event for families, individuals, and companies. Born out of a hope that it could mobilize people to take action on climate change, Earth Hour now inspires a global community of millions of people in 7,001 cities and towns across 152 countries and territories to switch lights off for an hour on March 28 2015 as a massive show of concern for the environment.
Greenrock has led Earth Hour in Bermuda for the last 6 years. We have lined up some great entertainment for the evening with the event kicking off at 7pm and wrapping up around 10pm. This is a great opportunity for families to come together, have fun and raise awareness for an increasingly important cause. Be part of our community for the 7th annual event: switch off your lights at home and at work and come to the Waterfront and join us.
We welcome partners who want to support the event - please contact This email address is being protected from spambots. You need JavaScript enabled to view it. to express your interest, or download the sponsorship form.
Volunteers Needed! If you or your organisation can help, please email Earth Hour Volunteer Co-ordinator Ashley Gillis at This email address is being protected from spambots. You need JavaScript enabled to view it..
This email address is being protected from spambots. You need JavaScript enabled to view it.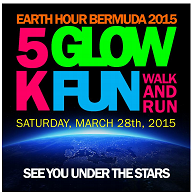 Join our Glow-in-the-Dark 5km. Enter NOW at RaceDayWorld.com.
The 5km run & walk route starts and finishes at the Waterfront and passes around the outside of the City of Hamilton (which will go dark for an hour). Get your glow on, grab a torch, grab your kids and your friends and join in. Warm up starts at 7pm, the race starts at 8:30pm and entertainment will go until 10pm.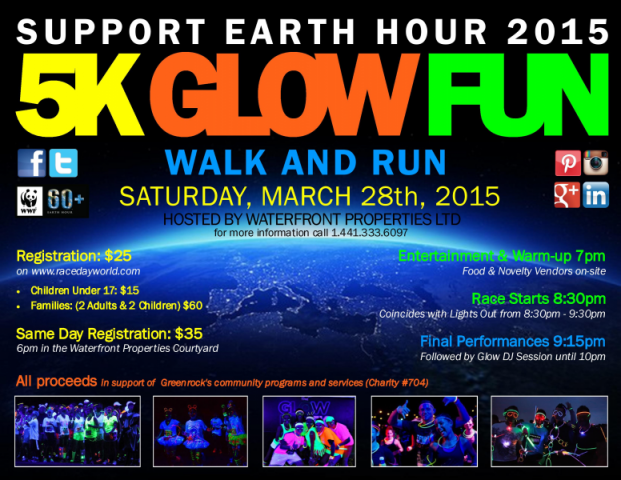 Waterfront Properties are hosting our Earth Hour 2015 community celebration.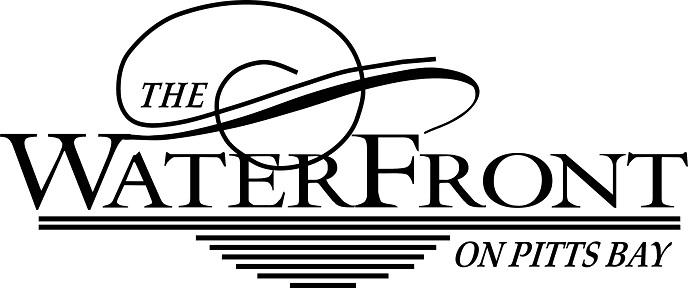 Tanya Corbridge, Property Manager for the Waterfront Properties, commented "The Waterfront and its tenants are honoured and excited about being asked by Greenrock to host the Earth Hour event this year in order to raise awareness about energy conservation. Waterfront Properties has always endeavoured to incorporate energy conservation in its day to day property management and operations. We anticipate that Waterfront's courtyard will be an ideal setting for the start and finish of the 5K where the community can come together to celebrate this global initiative."