Details

Category: About
These organizations are changing the way they do business to be more sustainable. They are also providing ongoing support to Greenrock so that together we can move Bermuda to a more sustainable lifestyle.
We would like to thank them for their vision for the future and their faith in our mission.
Details

Category: About
These organizations are changing the way they do business to be more sustainable. They are also providing ongoing support to Greenrock so that together we can move Bermuda to a more sustainable lifestyle.
We would like to thank them for their vision for the future and their faith in our mission.
Patrons
Sponsors
Supporters
Details

Category: About
Greenrock believes that if we act together, today: living sustainably will benefit today's and future generations. Changing our mindset to live within our means will have long-term benefits for our island, and will have immediate economic benefits .
By pursuing our current lifestyle we are using up the resources that belong to our children and grandchildren: it takes the Earth one year and six months to regenerate what we use in a year. We do not have to leave this burden; there is an alternative.
A sustainable life - Bermuda in 30 years:
An Island nation that lives within it's own ecological footprint. Zero carbon footprint: carbon emissions from energy and vehicles are low enough to be absorbed by green landscape and local fishing grounds. Sustainable thinking underpins our education system and our decision-making
Education: Schools' energy-saving behavior provides a model for their communities. Classes actively use the school gardens and energy facilities in their curriculum and engage students with alternative learning styles through engagement in the environment. Bermuda College is a world leader in training for "green jobs" such as energy management, zero-scaping, materials recycling and renewable installation.
Greenrock's Education Council, School Roadshow, and Green Schools Handbook all support these initiatives.
Housing: Planning codes and household behavior changes have resulted in 30% lower energy and water requirements: local traditional architecture styles include improved insulation, widespread reuse of building materials and grey water recycling. Newer architecture uses innovative approaches such as green walls and roofs and materials such as recycled plastics or tires.
Greenrock consults with the Government on planning codes and works with Architects and building companies.
Food: Community gardens and community supported agriculture have increased our local produce, food miles are labeled on all products, demand for meat and meat products has declined.
Greenrock's Healthy Harvest project actively promotes this concept.
Mobility: High penetration of electric vehicles, all oils are recycled as biodiesel fuel and supplemented by biodiesel from algae (commercialized from BIOS research) – there are no petrol vehicles. Public transport all uses renewable energy, runs cheaply and frequently and is well-patronized. Bike paths exist on major arteries for alternative transportation and bike friendly infrastructure, such as bike racks, are widespread.
Greenrock events such as "Moving Planet Day" promote these ideas.
Goods: non-renewable based products are banned as imports – all disposable products (plastic cups, straws, plates, bags) are starch-based rather than petroleum based, and also attract an additional duty which is used for the maintenance of onshore green-space and for the offshore marine protected area. Composting and minimized packaging reduces waste, and all waste disposal methods generate electricity.
Greenrock public service campaigns such as the BYOB campaign and the "No Thanks" plastic bag campaign encourage this behavior, the "hydration stations" project actively support changes in community behavior.
Energy: Peak electricity demand from the utility has dropped by 50% due to increased efficiency in homes and businesses (30%), and abundant micro-renewables provide for most of daytime use on homes and offices. Base load is provided by the waste-to-energy facility and tidal or wave energy, peak electricity demand is supplied by commercial wind or solar.
Greenrock's Green Office initiatives, Waste and Energy Committee, and projects such as the CFL bulb swap work to reduce dependence on fossil fuels
Business: Bermuda tourism is an example to the world – hotels use electric vehicles, recycle their grey water for landscaping, generate their own electricity and use bamboo and other renewable natural materials for furnishing and decorating. Bermuda is proud of the extent to which is protects its marine resources. Bermuda is a leader in attracting up-market eco-tourists. International Business is delighted to locate to a jurisdiction which is fully sustainable, and has excellent local skills in areas such as plant maintenance, native landscaping, and eco-psychology for employee health and energy management.
Greenrock's Green Buildings Forum and Green Office Project brings together companies to share ideas and work towards these goals.
Join us in Changing the Future!
Details

Category: About
All proceeds support sustainability projects and advocacy work to protect Bermuda's environment, led by Greenrock.

Benefits
Of course you will receive the psychic benefits of helping to save the planet!
Feels good, doesn't it?
You will also receive;
our monthly e-newsletters
invitations to all of our events
notification of our AGM
our community partners offer discounts or benefits to Greenrock members from time to time. We post these to our Facebook Page and also alert members by e-mail.
Your membership will help support Greenrock led community-based initiatives, including;
All proceeds support sustainability projects and advocacy work to protect Bermuda's environment, led by Greenrock.

To learn more visit What we do.
Membership year runs from January to December.
Annual Cost $25
Details

Category: About
Bermuda is a small island with a relatively large population; therefore, every aspect of our environment is affected by human interaction. We use more than we can possibly produce ourselves and we produce more waste than our island can readily absorb. This is not sustainable. Greenrock seeks to educate Bermuda residents and visitors so that we start to make choices that move us towards a more sustainable lifestyle. We believe that living sustainably is possible while maintaining our quality of life but we need to start Changing the Mindset today.
Details

Category: About
Greenrock is a Registered Charity under the Bermuda Charities Act and is incorporated as a Company Limited by Guarantee.
Board of Directors
Fiduciary oversight is provided by a volunteer Board of Directors which strives to provide responsible and transparent use of community funds, compliance with Bermuda laws, a consistent strategic direction to help Bermuda move towards a lower environmental footprint, cohesive values, policies and processes. Directors also advance Greenrock's mission and vision through advocacy for sustainable policies and practices on the island.
To see biographies of the Directors click on their names below.
Note: Names are listed alphabetically by last name.
Nick Campbell - Chairman
Eugene Dean
Joann Dill
Carol Dixon - Deputy Chair
Trevor Nelson - Treasurer
Grant Spurling - Secretary
Executive Director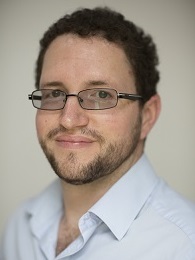 The day to day management of the organization is entrusted to a full-time Executive Director who oversees communications, operations, fund-raising, and project management.
Greenrock's Executive Director is Jonathan Starling. Jonathan has academic qualifications in biology, anthropology, ecological economics and urban and regional planning; and experience working on social and economic research in the UK with Forest Research and the Scottish Government. He is also a born and bred Bermudian with deep roots in Bermuda's community both in the environment and conservation, and advocating for social issues. He has had hands on experience with Bermuda's natural environment through conservation research at BIOS and the Bermuda Biodiversity Project, and has worked with the Sustainable Development Unit.

Jonathan can be reached at This email address is being protected from spambots. You need JavaScript enabled to view it.
Schools Programme Manager
Greenrock also employs a full-time Schools Programme Manager, Abbie Caldas, to represent Greenrock at the Foundation for Environmental Education and to run the Eco-Schools and Water Explorer programmes under the direction of the Executive Director. Abbie can be reached at This email address is being protected from spambots. You need JavaScript enabled to view it.
Greenrock Council
The Greenrock Council is a vital part of Greenrock's mission: most of Greenrock's projects and events are proposed and managed by members of the volunteer Council which meets regularly to share ideas and support.The membership of the Council is flexible and depends on the current projects and interests of the individuals. If you have ideas that you would like to propose, or are interested in participating in the Greenrock Council please contact This email address is being protected from spambots. You need JavaScript enabled to view it.
If you would like to join Greenrock as a member click here. Explore other volunteer opportunities on our volunteer page.
Details

Category: About
How to make a donation to Greenrock using
Int'l Charitable Fund of Bermuda, inc
The International Charitable Fund of Bermuda, Inc. ("ICFB") is a U.S. corporation, incorporated in the State of Delaware on November 18, 1994, with a permit to operate in Bermuda. It has received charitable status in both the U.S. and Bermuda. The ICFB serves as a vehicle through which an American taxpayer can make a tax deductible donation to a Bermudian charitable cause.
For some time, a number of large and small charitable organizations had had to wrestle with the question of whether to set up a U.S. tax-exempt company to assist them in raising funds from U.S. donors. Therefore it was decided that it would be helpful to the Bermudian philanthropic community to create one "umbrella" U.S. entity that could be used by all for these purposes. PricewaterhouseCoopers and The Centre on Philanthropy underwrote the costs of establishing the ICFB, for the benefit of Bermuda.
The American taxpayer may be an individual, company, trust fund or foundation, located in the U.S., Bermuda or elsewhere. The American taxpayer can then make the donation (of cash or other asset requested by the charity) to the ICFB and the ICFB will officially thank and acknowledge the donor.
The complex U.S. tax laws are created to prevent abuse of tax exempt and/or charitable status organizations and to prevent the use of charitable funds for private interest or personal gain. U.S. charitable giving is not restricted to the United States. Donations are tax deductible on an international level providing certain legal requirements are met. The IRS provides a series of "tests" that an organization such as the ICFB must meet and significant reporting requirements to which the organization must adhere.
As a result, the bye-laws of the ICFB require that charities wishing to receive funds submit a formal request for funds, specifying the use to which the funds will be put and to subsequently account for their use. They also require that the trustees ensure that the charities using the funds use them solely for charitable, religious, scientific, literary, or educational purposes, according to the U.S. definition. The sample donor's Letter of Intent and Application for Approval to Receive Grants for charities (Appendix II & III attached), have been developed to assist the Trustees in discharging these responsibilities. While it is a policy of the Trustees to consider the wishes of donors in disbursing funds, they do have the discretion to return or redirect funds if they believe the intended recipient is inappropriate.
Here is a flowchart to help you understand the steps taken in order to donate money to Greenrock via ICFB: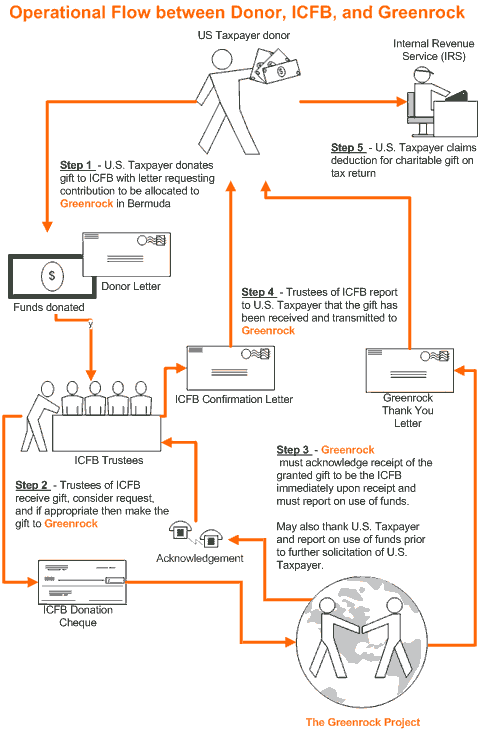 Details

Category: About
There's a lot of interest from you - our supporters - in helping out with Greenrock events and projects. We appreciate your support in all areas!
We need help today in the following areas:
To help with Eco-Schools, volunteer roles can be hands-on with students and schools or behind-the-scenes support, even outside of regular school hours. Some important roles include: Eco-Committee Member/Facilitator (specific to a school), Audit Assistance (specific to a school or to a topic), Campaign Development, Event Planning, and Accrediting Committee. Please email our Eco-Schools Coordinator at

This email address is being protected from spambots. You need JavaScript enabled to view it.

. If you want to help with a specific school please include that in the email.
Are you organized and interested in efficiency? We are looking for someone to manage our Savings for Seniors Project. We anticipate that this would take a couple of hours a week on an ongoing basis. This person will need to have the following skills: Be very organized and comfortable with keeping track of stock, enjoy working with our senior citizens, have some confidence with how electricity and electrical appliances work.
Do you like marketing and communications? We would like someone to help with marketing our Hydration Stations. We anticipate this would take a few hours a week for a few weeks to a couple of months; after that the project takes minimal maintenance. This would involve promoting the hydration stations to potential sponsors, liaising with the Corporation of Hamilton and other partners, and managing the artwork and partner relations. It would be helpful for this person to have some familiarity with marketing or advertising, be interested in design, and also be detail oriented and willing to work with a number of different partners to keep the hydration stations in good condition. There may be an opportunity to work with the America's Cup initiative to put new hydration stations at Dockyard.
Do you have ideas on how Bermuda can lower its environmental footprint? Are there projects you think we should carry out? Maybe you would like to join our Management Team?
For all of these roles, if you would like to learn more, send an email to our Executive Director: This email address is being protected from spambots. You need JavaScript enabled to view it.


From time to time we need volunteers for our regular events, such as Earth Hour. If you would like to be contacted to help at an event, sign up below:
| | |
| --- | --- |
| To sign-up as a volunteer, click | |
Details

Category: About
Suite 324, 48 Par-La-Ville Rd, Hamilton HM11, Bermuda
Tel: +1-441-747-ROCK (7625)

Email: This email address is being protected from spambots. You need JavaScript enabled to view it.
Website: www.greenrock.org
Wireless and Cellular Phone Services courtesy of