Keep Bermuda Beautiful turns 50 this year — adding fanfare to its recent annual general meeting, where KBB handed out awards to friends and partners in addition to celebrating the accomplishments of 2013.
KBB's Environmental Partner Award was given to Greenrock.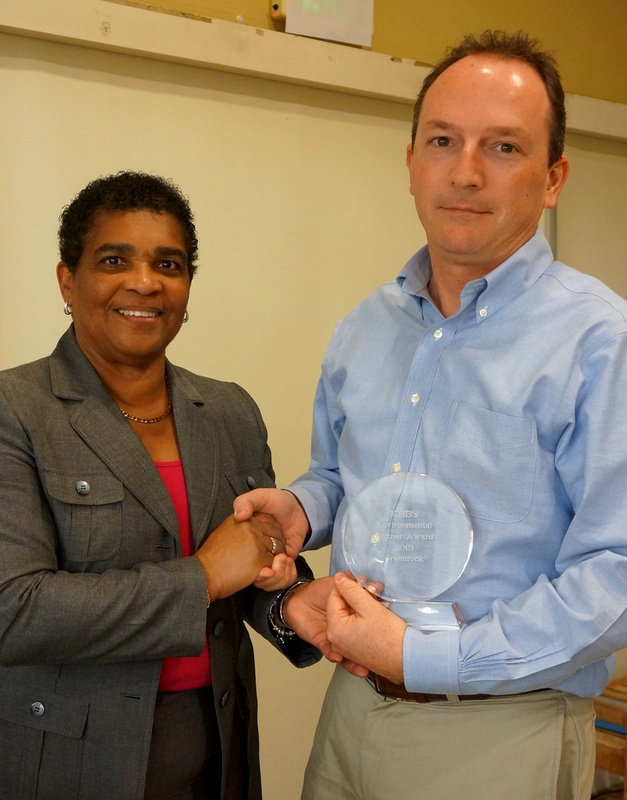 The Minister of Public Works, The Hon. Patricia Gordon-Pamplin presenting the award to Greenrock Chairman Nick CampbellAccepting the award was Greenrock Chairman Nick Campbell who said, "Greenrock is delighted to receive this award from KBB. It is always gratifying to be acknowledged for the work that we do but it is particularly rewarding when it is by a peer organisation that we hold in high regard.
"Greenrock is very proud of the work that we have done together with KBB over the past year on the 'No Thanks!' to single-use bags campaign. We are equally proud of our long-standing partnership with KBB on the Bermuda Marine Debris Taskforce and of our collaboration on the Eco-Schools program.
"We look forward to continuing to work with KBB and others to help build an environmentally sustainable Bermuda for all.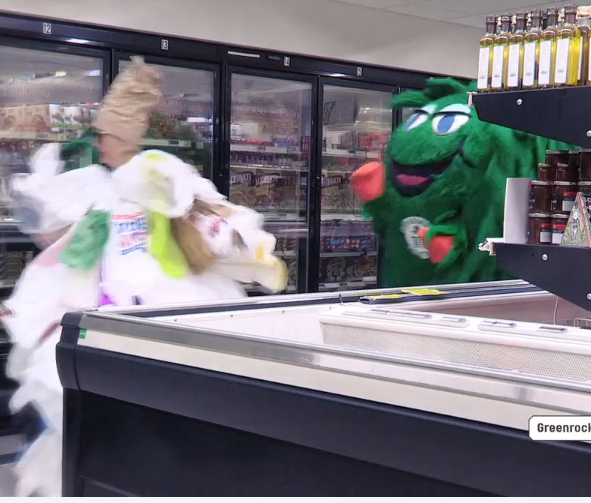 KBB's Litter Critter chases The Bag Monster in a still from Greenrock's 'No Thanks' campaign video.Greenrock would also like to thank KBB for all of their good work and to congratulate you on 50 years of Keeping Bermuda Beautiful."
KBB's key initiatives are their School Education, Community Cleanups and Adopt-A-Spot Programmes, as well as the Artful Bins Project and annual Trash Art Show. For more information, visit http://kbb.bm/.
Other recent awards to Greenrock include a 2012 Best of Bermuda and a 2013 Product & Service Award.
Local Media Coverage: