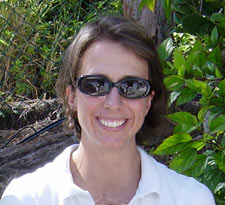 Judith Landsberg
Occupation?
Parent and volunteer. I have also been a scientist, a management consultant and an educator.
What motivates you out of bed in the mornings?
My children: we start the day with cello practice, saxophone practice (guaranteed to wake you up) and all the regular minutiae of family life. However, I like mornings, the sun and the sea and my garden would get me up anyway.
What would you like to see change in your lifetime?
An awareness that we are all stewards of the environment, that we have a responsibility for the earth and for each other. An appreciation that whether we have a PhD or a primary-level education, whether we are a teacher, a business woman or a gang member, everyone has something of value to offer. The ability to teleport would be nice as well as I have friends all over the world that I would like to see more frequently!
Why should we care about Bermuda's development?
Because each of us can help make Bermuda what we want it to be! The things that make Bermuda unique are under threat, as are the things that tie Bermuda to the rest of the world: Our unique, rich coral reefs are in better shape than coral reefs almost anywhere else in the world. Isn't this something to celebrate and maintain? Bermuda is wealthy and we as individuals have a degree of control over our environment, which is almost unique in the world – look how the fish-pot ban made a difference to the reefs; look how fast Bermudians adopted 'green' grocery bags. Why wouldn't we make ourselves energy independent and have an impact on global warming? Why not eliminate the waste and toxins we release into the sea and the atmosphere? Each of us here can have an impact on what is happening right here, and the whole world will benefit!