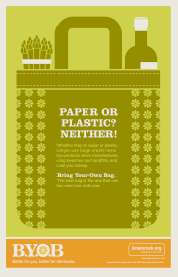 The majority of people think a 5p charge on single-use carrier bags should be introduced in England to cut litter and waste, a poll suggested today.
Three-quarters of those quizzed (75%) said they would try to cut down on the use of new plastic bags if there was a 5p charge on them, according to the survey for a coalition of groups pushing the Government to bring in a bag levy in England.
The poll of 1,752 English adults found that 56% agreed a 5p carrier bag charge was not unreasonable even in a time of austerity, as it had been proved to reduce litter and waste, although a quarter disagreed.
The "break the bag habit" coalition of conservation and anti-litter groups wants the Government in England to bring in a charge on plastic bags, which they say end up littering the streets, countryside and beaches or damaging marine wildlife.
The latest figures showed the number of carrier bags being given out by supermarkets rose by more than 5% last year across the UK, the second annual rise in a row, with customers using almost eight billion carrier bags in 2011.