Greenrock presents Bermuda premiere of Food, Inc.

October 16, 17, 23, 24 at 7 pm and 9 pm ... at the Bermuda Underwater Exploration Institute ... Free admission!
In conjunction with its Healthy Harvest Bermuda food awareness campaign, this month Greenrock will screen the critically acclaimed documentary Food, Inc., a film by Robert Kenner that exposes America's industrialised food system and its impact on the environment, health and economy.
Greenrock will present Food, Inc. at eight free screenings over two weekends in October. This film lifts the veil on the US food industry, exposing the highly mechanised underbelly that has been hidden from the American consumer. Critics have said:
"Eating can be one dangerous business. Don't take another bite till you see Robert Kenner's Food, Inc., an essential, indelible documentary that is scarier than anything in the last five Saw horror shows."
- Peter Travers, Rolling Stone
"After an hour and a half of sighing, wincing, and clucking over the manifold outrages portrayed in Robert Kenner's Food, Inc., I gave up the thought of 'reviewing' the documentary and decided, instead, to exhort you: See it. Bring your kids if you have them. Bring someone else's kids if you don't."
- David Edelstein, New York Magazine
Through the generous support of Participant Media, Greenrock is pleased to have the opportunity to present a pre-home video release screening of this film in Bermuda. Food, Inc. will be shown at the Bermuda Underwater Exploration Institute (BUEI) at 7pm and 9pm on Friday and Saturday, October 16, 17, 23 and 24. Admission is free and seats are limited, so please arrive early.
For more information on Greenrock's Healthy Harvest Bermuda project, email This email address is being protected from spambots. You need JavaScript enabled to view it. or call 747-7625.
Download a Healthy Harvest Bermuda flyer!
Flyer #1 - Healthy Harvest Flyer #1 367.55 Kb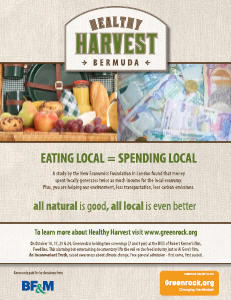 Flyer #2 - Healthy Harvest Flyer #2 393.88 Kb