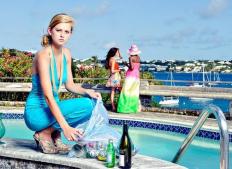 Greenrock has entered the 2010 bermudacupmatch.com Charity Fashion Competition and we are requesting your vote! Greenrock is up against Raleigh International, Bermuda Red Cross and Chewstick battling for the most votes on our fashion spread. The charity with the most votes wins the grand prize of $2010. We can use this money to help fund projects under our 'Changing the Mindset' fund.
We partnered with the TESS Group of companies to develop a Cup Match photo spread which follows four friends through their event filled, environmentally friendly Cup Match weekend.
The friends did everything from camping to attending the game. And what's Cup Match with out ending with the Non-Mariners race? They did it all and kept it all e-Chic (environmentally chic)! I think Greenrock can proudly say that we made recycling sexy!
With that said we ask You - sponsors, members and friends alike - to visit www.bermudacupmatch.com/fashion and vote for your favorite charity, Greenrock!
But don't stop there, please encourage your family, friends and coworkers vote as well!
Voting closes July 21st. *Note: Votes fromt he same IP adress will only be counted once so be sure to vote from home as well!
Greenrock would like to send a special thanks to the wonderful staff at Cecile and the TESS Group for styling the shoot. We would also like to thank our photographer: Alex Masters; models: Brittany Fox, Danielle Smith, Emily Collins and Chaki Smith; Make-up artist: Alana Dowling; and Hair stylist: Earl-leshia Stevens.
We thank you all for your continued support!
Ed's Note: Congratulations to Bermuda Red Cross on winning this competition. Red Cross teamed with 27th Century Boutique. Greenrock would also like to thank bermudacupmatch.com for donating $201 to Greenrock and each of the other participating non-profits. For more details, visit bermudacupmatch.com/fashion.