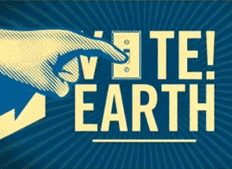 As the lights of Apia, Samoa were turned on once again at 21.30pm local time (08.30 GMT), the citizens of the world reflected on the planet's largest collective leadership for climate action – Earth Hour 2010.
25 and three quarters hours after the first lights were turned off in Chatham Islands, the world has seen the lights go off on heritage sites, ancient and modern marvels, local cafes, schools, royal and presidential palaces, universities and backyard dinner parties.
A record 126 countries and territories, over 4,000 cities, towns and municipalities
and hundreds of millions of people across the globe took part in delivering a powerful action of hope for a better, healthy planet.
Andy Ridley Co-Founder and Executive Director of Earth Hour
said, "The response from citizens, businesses and government has been truly phenomenal. Crossing geographic, economic and cultural boundaries, it has brought together people from all over the planet to celebrate the one thing we all share – the place we live." "WWF's Earth Hour, at a personal, local and global level has become a rallying point for those who want action on climate change and are prepared to be part of the solution. Once again, Earth Hour was owned by the people of the planet," Ridley said.
"Our goal this year was to reach out further into the community to get more people to participate," stated
Andrew Vaucrosson, President of Greenrock
. "At our public gathering, despite the stormy weather, we had over 150 people including kids. We went to over 12 local schools to talk about Earth Hour and we had reached out to several companies and business to encourage participation."
In a local survey leading up to Earth Hour 2010, which was
sponsored by the Bermuda Government's Department of Energy
, more than eight in ten residents (81%), indicate that they are aware of Earth Hour. And nearly six in ten residents (59%) stated they had participated in Earth Hour in the past.
In Sydney, a participant at a candle lit dinner said, "(Earth Hour) is a great moment to think about our impact on the environment and our place in making a positive change for our planet. It is a great way of uniting people to act on climate change."
Impressions online included:
• 74.6 million of Earth Hour mentions on Google within 24 hours
• Number 1 worldwide trending topic on Twitter for most of the 24 hours, which never fell below position 7 (at it's peak 2.2 % of all tweets were Earth Hour related)
• Over 1,000 official Earth Hour photos were submitted from around the world
As the world once again freely uses its lights, Earth Hour organisers believe that actions of individuals throughout Earth Hour has demonstrated the desire that remains embedded in the hearts and minds of the people of the planet to make a difference in their everyday lives and to make every hour, earth hour.
Earth Hour is not about how much energy is reduced in that one hour but rather 'Changing the Mindset' when it comes to how we can all collectively reduce our energy usage every day.
Earth Hour 2011
will take place on Saturday,
March 26, 2011
. Put it in your diary. It's going to be even bigger!
One Hour, No Power. Let's Act Together
Related Stories: