Passion and Innovation can make a difference: They are probably the only things that can. This is your island, your planet, your future, and ultimately your choice.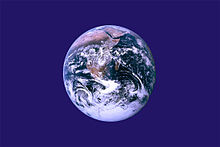 The official Earth Day flag
Earth Day broadens the base of support for environmental programs, rekindles public commitment and builds community activism around the world through a broad range of events and activities. Earth Day started as grass-roots action by students, and we are returning to those roots by hosting our second annual Earth Day student video competition in 2013.
Earth Day Student Video Competition
The Bermuda National Trust and Greenrock invite all students to participate in the 2013 Earth Day video competition to showcase your creativity, innovation, and commitment to our natural and cultural heritage as well as to the future of the planet. Gather your classmates or members of your club and make your voice heard! Use your creativity to present ideas for how you and your community can live in better harmony with each other and our planet.
Participants are invited to create a 2-4 minute video that demonstrates what you think needs changing and how you think we might achieve it.
Ask your school if this can be included in your curriculum: as a way to write up an experiment, a project or a piece of coursework.
Videos will be screened in school assemblies during April (Earth Month) and will be showcased at a special screening and prize-giving on Earth Day: April 22nd 2013. Winning videos will also be screened on National TV.
How to enter
1. Gather your classmates, friends, or members of your club.
2. Brainstorm ideas
3. Register your team and your idea
4. Get filming and editing.
It's as simple as that.
Timeline
Registration closes February 23rd 2013
Video submission deadline is Monday,

March 25th

2013
Earth Month school visits and video screening: April 16th to 26th
Earth Day video screening and Prize-giving: Monday, April 22nd 2013
Tips for good video production
Focus on one idea and present that in a way that is engaging. This could be a cartoon, images set to music, documentary style, a rap song, or something completely different
Use a tripod or stand for your camera, especially when recording interviews or stationary scenes
Use a microphone with a proper (furry) cover if possible - this will reduce wind and other extraneous noises
Check your facts - try to find at least 3 independent sources online for each fact
Include a title, credits, and your sources.
Evaluation Criteria
1. Creativity: have you demonstrated different ways of thinking and expressing ideas? Does your personality show in the way you have made the video?
2. Effectiveness of the medium: have you used film to its best potential? Have you told a story? Does the message get across clearly?
3. Ability to inspire action: have you addressed an issue and given ways people can get involved? Have you stayed positive and focused on solutions? Are you inclusive - can anyone get involved?
Ways we can help
We plan to offer video and editing workshops in February - try to have some filming done by then to get the most out of the workshops. Provisional dates (to be confirmed):
Thursday February 21st 6pm
Saturday February 23rd 1:30pm
Reach out ... contact This e-mail address is being protected from spambots. You need JavaScript enabled to view it at any time to ask for help brainstorming, if you want to see examples, if you are stuck for equipment, editing software, for an introduction to a local facility or department, or for anything else you need.
Ask for help from a teacher, a parent, a community activist or other local figure.